With the progressive establishment of Industry 4.0, we are experiencing a process of merging the physical and digital worlds in order to optimise manufacturing processes. Technicians and assets are supported by intelligent technology operations and an interconnected system, which facilitates the understanding of information, promotes collaboration and leverages the automation of work processes, such as training or maintenance.
One of the key elements in implementing digitisation are workflows, which automate the tasks of each technician, so that the production process is organised and hierarchical for optimal execution.
The technician simply goes to his smart device and is presented with assigned tasks associated with videos, images or even 3D elements. As he completes tasks, he can interact with the device by indicating in a checklist the steps he has successfully completed, as well as reporting any problems that may have occurred.
Augmented Reality in workflows
To maximise the effectiveness of these workflows, support can be sought in technologies such as augmented reality, which allows access to different content in a more convenient way and adapted to the environment. To view a 3D element with indications of tasks to be performed on an asset, for example, augmented reality allows the figure to be superimposed and adapted to the tangible plane. Ideally, smart glasses such as the Microsoft Hololens 2 would be available for greater immersion and comfort.
This use of workflows is particularly attractive for employee training and the execution of maintenance tasks. Automated and digitised process management support leads to an increase in the efficiency of production results, an increase in the productivity of technicians and operators and, consequently, to considerable savings in economic resources.
SAAM as a tool for the digitisation of work processes
At Innovae we offer our own solution for digital workflows supported by augmented reality, called SAAM. In its practical use we have identified the following specific advantages:
1. Digitisation of knowledge
The information is always up to date and easily accessible, fostering a workspace where technicians are provided with facilities for the execution of their tasks. The data generated is also accessible in real time, allowing for immediate attention. Digital workflows offer access to highly visual and interactive content.
2. Dynamic work distribution system
Content is organised, disseminated and controlled from a central administration, so workflows are easy to create and assign. Tasks can also be scheduled to fit within a timeframe for execution.
3. Autonomous and remote use
The maintenance process through SAAM provides the technician with greater autonomy and independence, as the material he needs is made available to him, and the management of possible problems is also carried out from his device. In addition, workflows operate from any location and can be used both online and offline.
4. Time and cost savings
Digital workflows bring together everything a technician needs in one place and guide him step-by-step through his tasks. This speeds up the execution of maintenance processes and avoids additional costs.
5. Monitoring of the activity
SAAM records what happens with each workflow, so that the work process can be optimised by paying attention to where the most time is spent and the most bottlenecks arise. The logging of interventions and incidents provides a direct insight into how the activity in the field is developing, and the collected data can be downloaded for further analysis.
6. Added value of Augmented Reality
As mentioned above, augmented reality can make the most of the digitisation of processes, allowing access to content in a dynamic and practical way, either by using 3D content or by superimposing tasks on reality according to the needs of each situation.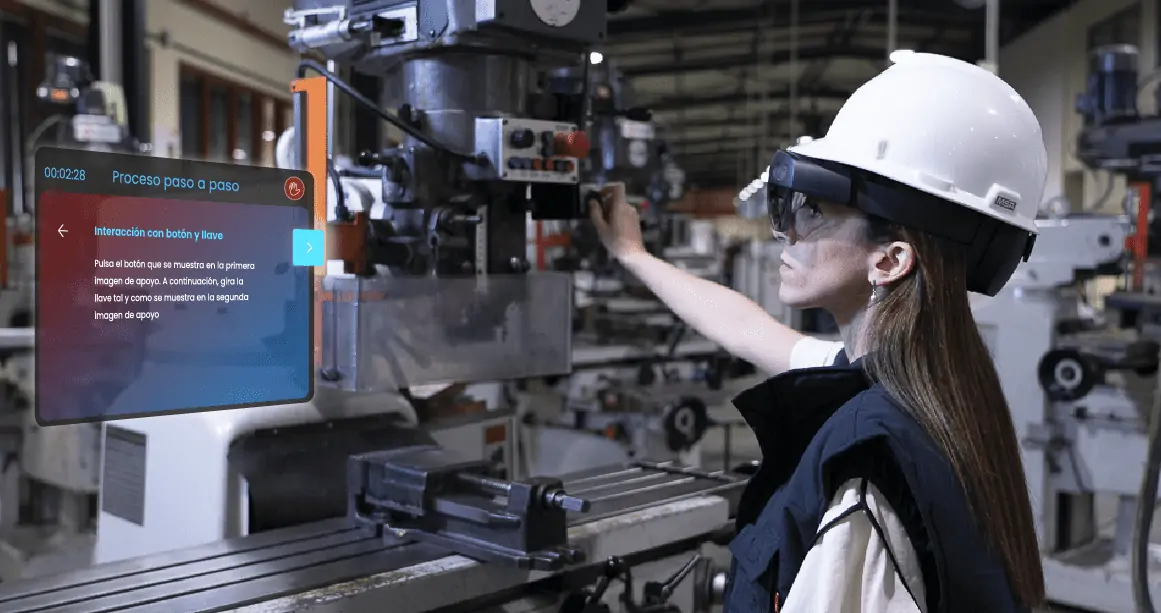 SAAM is a comprehensive yet simple way to digitise technical knowledge based on guided processes using videos, 3D animations, real-time data and augmented reality.
At Innovae we seek to optimise the efficiency of the industrial fabric through the empowerment of the workforce, and the standardisation of technical operations is a key to this.
If you are interested in learning more about the SAAM tool, please do not hesitate to contact our team!