Collaborative tool designed to provide real-time remote technical assistance for diagnostics and resolution of incidents
How does our augmented reality remote assistant software work?
ATR is specifically designed to provide field technicians real-time remote assistant support to increase efficiency in technical interventions and in remote industrial maintenance tasks.
Streaming Technology
High quality service with low bandwidth.
A simple low speed data connection is enough to operate.
Augmented Reality
Based on Augmented Reality to overlay information on the real image.
Allows to overlay texts, predefined graphics and freehand drawings in real time.
Multidevice
Developed with web technology. Compatible with any device
(Mobile, tablet, PC, Smart Glasses) without the need to install any application.
Easy and Intuitive Interface
No previous experience or technical knowledge is required.
Valid for any type of profile.
Do you want to learn more about ATR?
If you would like to know more about our remote maintenance solution using augmented reality, our team will be happy to conduct a DEMO with you.
Digitization of Knowledge
ATR allows to create a knowledge base about incident management which is stored in the administration panel. From the panel, the administrator monitors the use of the tool and accesses the digitized knowledge during the remote assistance.
User Management
Registration and role assignment.
Storage and access to technical knowledge
Reports generated during remote assistance, file sharing and video recordings of sessions.
Statistics section
Generation of statistics about the activity performed with the remote assistance software. The platform allows to export the recorded data in .csv format.
ATR works on iOS, Android and Windows operating systems. It is compatible with any smartphone, Tablet, PC or smart glasses as it is developed in Web technology.
It is an intuitive and friendly use tool that does not require the previous installation of any application. A solution that will improve maintenance tasks thanks to augmented reality.
Compatible also with the latest smart glasses:
Advantages
Efficiency
Reduce diagnostic and problem resolution time by 15%
Cost Saving
Avoid expert travel by up to 25%
Field Support
Instant assistance and training for technicians on site
Quality of Service
Instant customer service through advanced tools
Manufacturing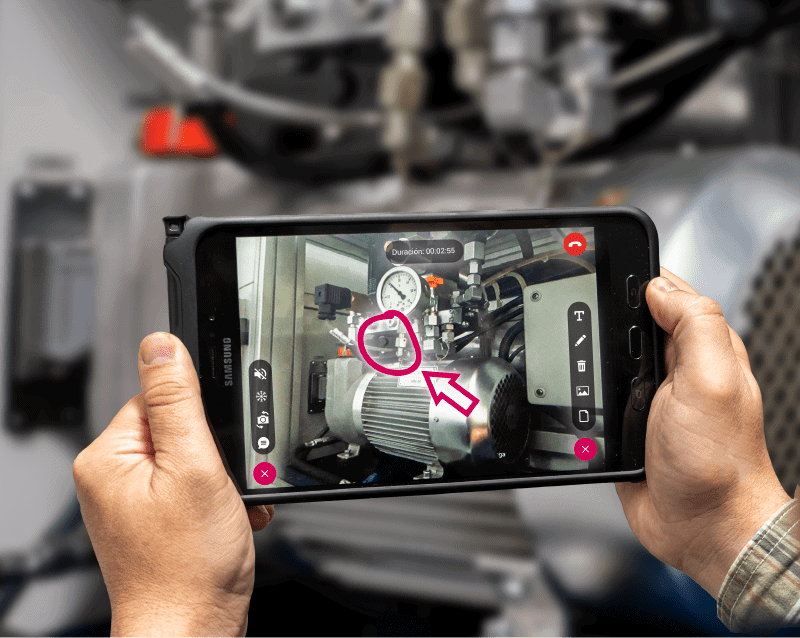 Increase of efficiency in the maintenance and repair of facilities and production lines with real-time remote assistance from experts and suppliers. It provides a faster identification of errors, reduces significantly the response times and it minimizes the downtimes.
T.A.S
Optimization of the activity of Technical Assistance Service companies. The use of remote assistance with augmented reality improves the communication between the service centre and the technical team and provides immediate knowledge to the operators during the interventions. Unnecessary trips are avoided, the performance of field technicians is improved and the time of the interventions is reduced
Customer Support
Improvement of the customer service provided by machinery manufacturers and turnkey projects companies. By the use of remote assistance with augmented reality the company offers immediate support when it comes to commissioning, repairs, and equipment maintenance, as well as in the training of the clients workforce.
Technical Remote Assistant
Do you want to learn more about ATR?
If you want to know more about how ATR works, our team will do a DEMO with you.